This Brown Butter Lobster Roll Pasta is tossed in a brown butter and garlic sauce that is unbelievably delicious. Because everything is better with butter!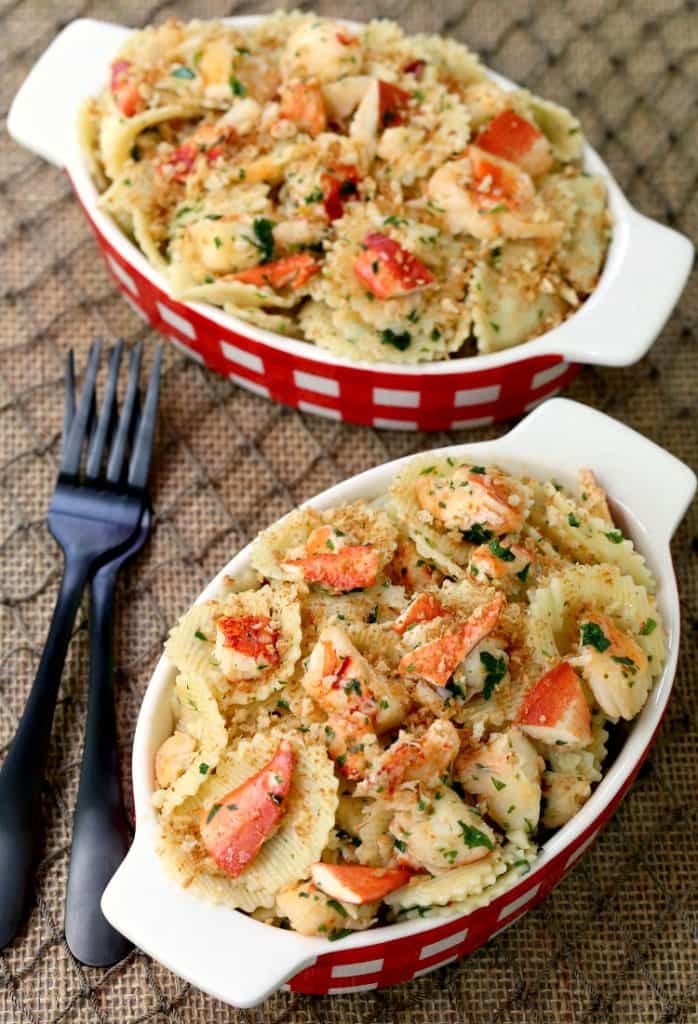 AND everything is better with lobster.
We can definitely say that, too.
Lobster goes on sale at the end of the summer at our grocery store and we stock up. Our grocery store steams them right there for us so all we have to do is crack the shells and pick the meat when we get home.
Sometimes we eat it just like that, or we make this Lobster Stuffed Bread…and once in a while I throw a bunch of lobster meat in the freezer for use at a later time.
Usually that doesn't happen since the lobster meat hardly ever makes it into the freezer but once in a while I can hide some before anyone sees me.
With the lobster meat frozen, on a random night for dinner it could be Lobster Corn Chowder – and everyone comes running.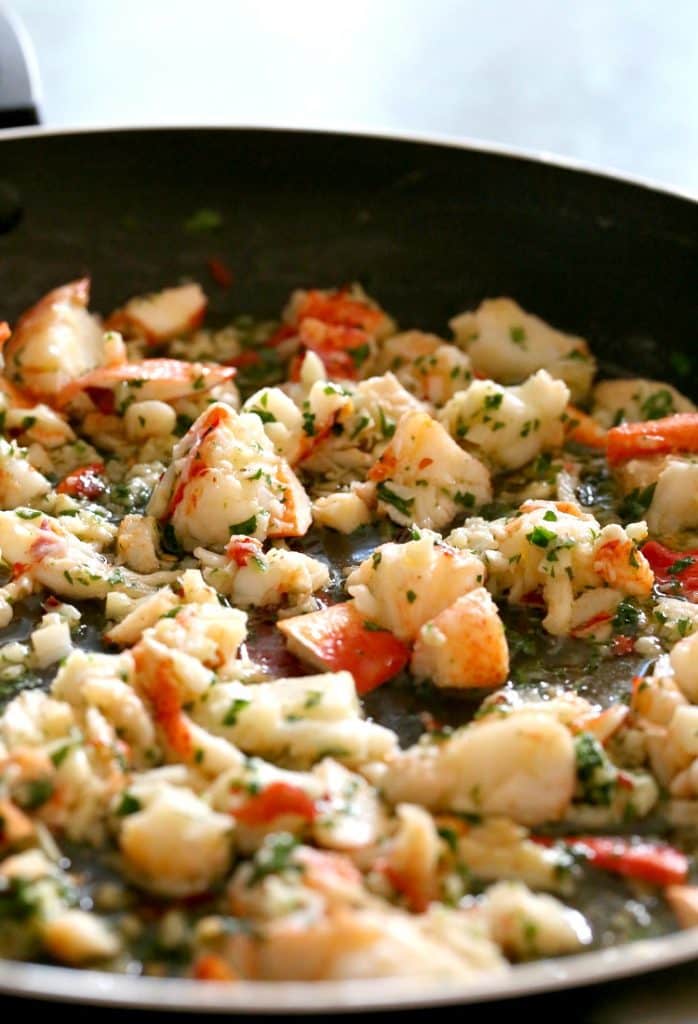 Look at all that lobster covered in butter and garlic. You could just eat that right there…but we're going to take all that good stuff and toss it with pasta and crispy bread crumbs.
I like this type of lobster roll over the mayonnaise version…but I'm not going to be picky about it. When someone hands me any version of a lobster roll, I'm going to be eating it.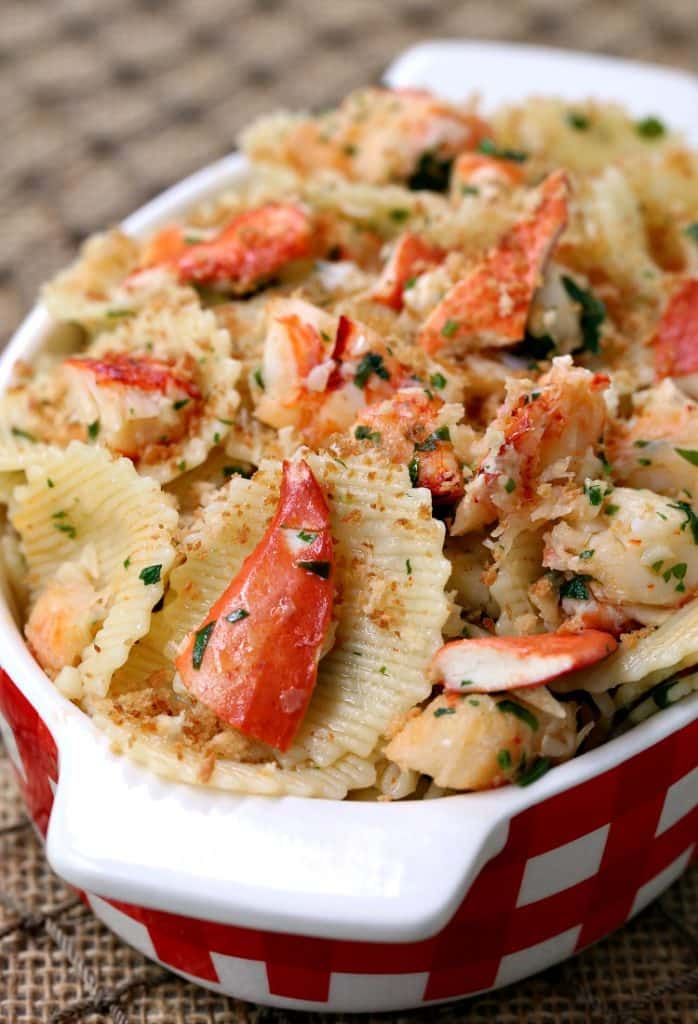 No doubt that this is one of those times when you've got to put the diet away – not worry about how much fat, etc. is in this dish. Just grab a beer and enjoy.
Another reason you should just dive in to this Brown Butter Lobster Roll Pasta is because you're not going to be making this pasta every week or every month. Once in a while you just need some good old comfort food.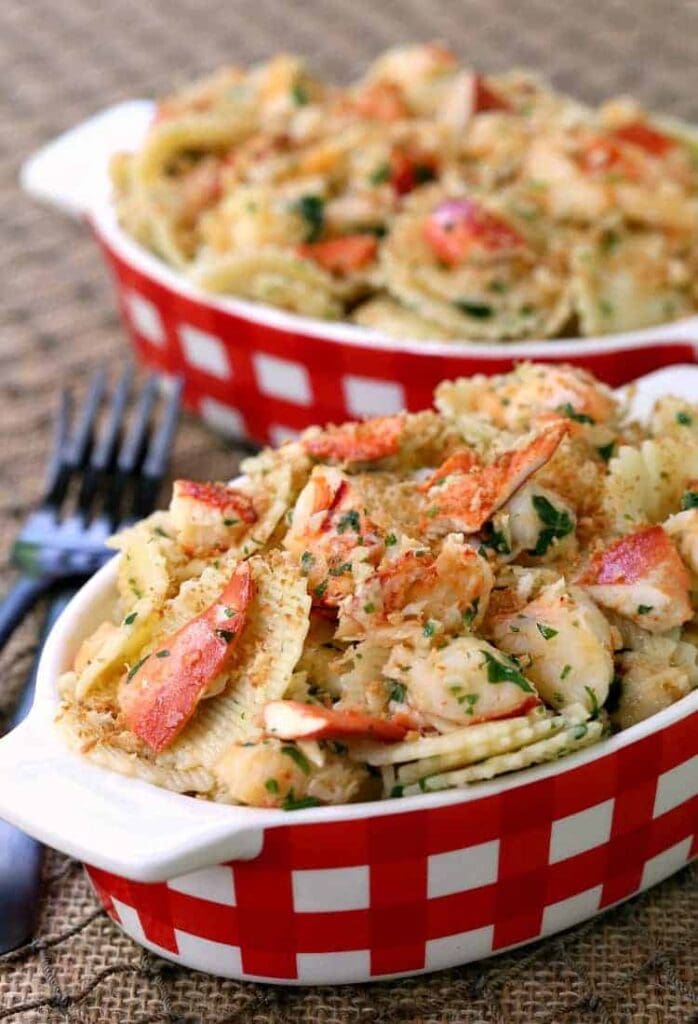 Of course, next week you can go back to chicken and salads.
Print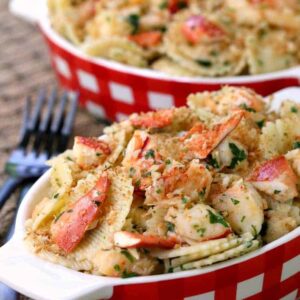 Brown Butter Lobster Roll Pasta
Scale
Ingredients
1

lb. pasta

3/4

lb. lobster meat

1/2 cup

panko bread crumbs

12 tablespoon

s of butter

1/4 cup

garlic

1/2 cup

chopped parsley

1/2 cup

parmesan cheese

1/2 teaspoon

crushed red pepper flakes

1/2 teaspoon

salt
Instructions
Cook the pasta according to the package directions, drain and set aside in a colander.
Add the bread crumbs to a large skillet over medium heat. Stir while browning, about 5 minutes then remove the bread crumbs from the heat.
To the same skillet, add the butter and melt until slightly browned.
Add the garlic, stir and cook for 30 seconds.
Add the lobster pieces, stir to coat in all the butter and warm through.
In a large bowl, add the cooked pasta, parmesan cheese and parsley. Pour in the lobster and butter sauce and stir gently to combine.
Spoon out the pasta into bowls and top with the bread crumbs.