Chocolate Chip Carrot Cake Cookies are soft just like the cake, all the best flavors in one bite!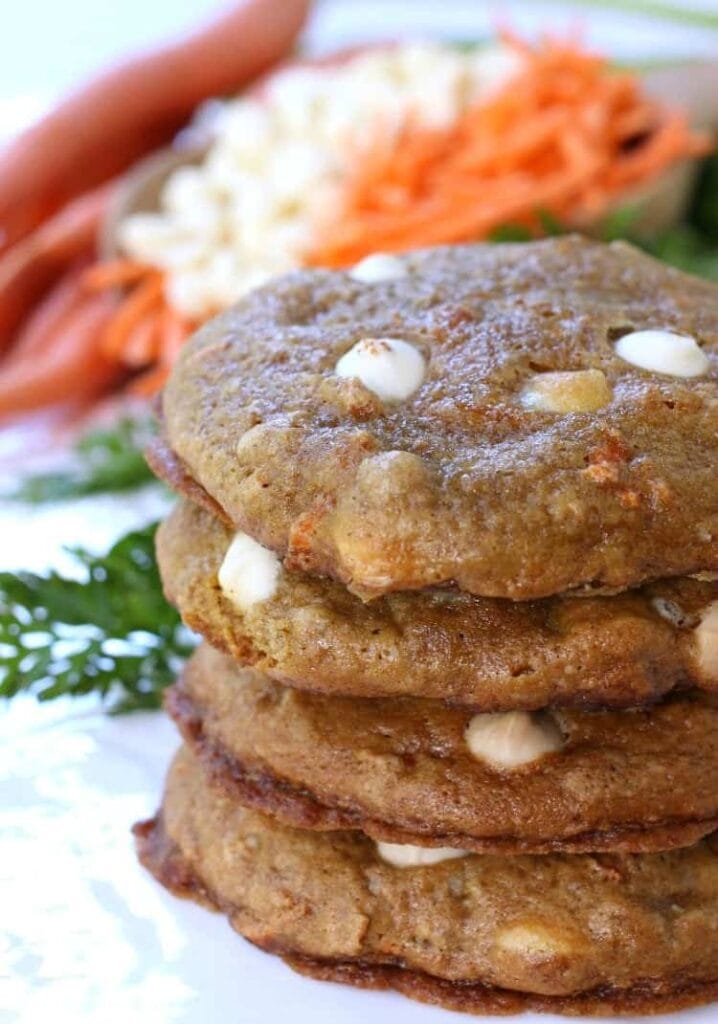 But there's no frosting.
I guess looking back we do make a lot of cookies without frosting, like my coconut birthday cookies and even chocolate chip cookies made with bourbon and bacon.
Yeah, those were good.
I did throw some white chocolate chips in here to make these cookies sweet and dessert like. But no frosting.
I have two boys that are not big fans of frosting. Not that they won't eat a cake or a cupcake or a cookie with frosting on it, but really they like it better plain.
On our recent trip to Disney World, we sat there and watched them scrape the frosting off of almost every dessert they got. We were on the dining plan so dessert comes with every meal – as it should when you're in Disney.
One of my favorite desserts to grab from our hotel was the carrot cake. I offered both boys bites but they dug into their chocolate chip cookies instead. Finally I got them to take a taste of just the cake, and it was a win.
So these Chocolate Chip Carrot Cake Cookies are my way of combining two of their favorite things without having to use frosting on top of a cake.
These cookies are light, soft and totally cake like. There's no chewy or crispy (maybe just a little around the edges) but just like a small piece of cake. They're kind of perfect.
The other thing I love about this recipe is that there's no sifting, no waiting for butter to soften or come to room temperature, no millions of steps, and no difficult ingredients. These are cookies for the people who don't really love to bake, just dump everything in a bowl, mix and chill.
Yes, chill.
They need to sit in the fridge for an hour or two – even over night if you have the time to wait.
All there is to this is to combine the dry ingredients in one bowl and the wet ingredients in another bowl. Mix the together and you're good to go.
After they chill, scoop them out onto a baking sheet sprayed with cooking spray and bake for about 18-20 minutes. 18 minutes worked perfectly for us, they were still a little soft on the inside when we took them out of the oven to cool – and after cooling for 10 minutes they were perfect.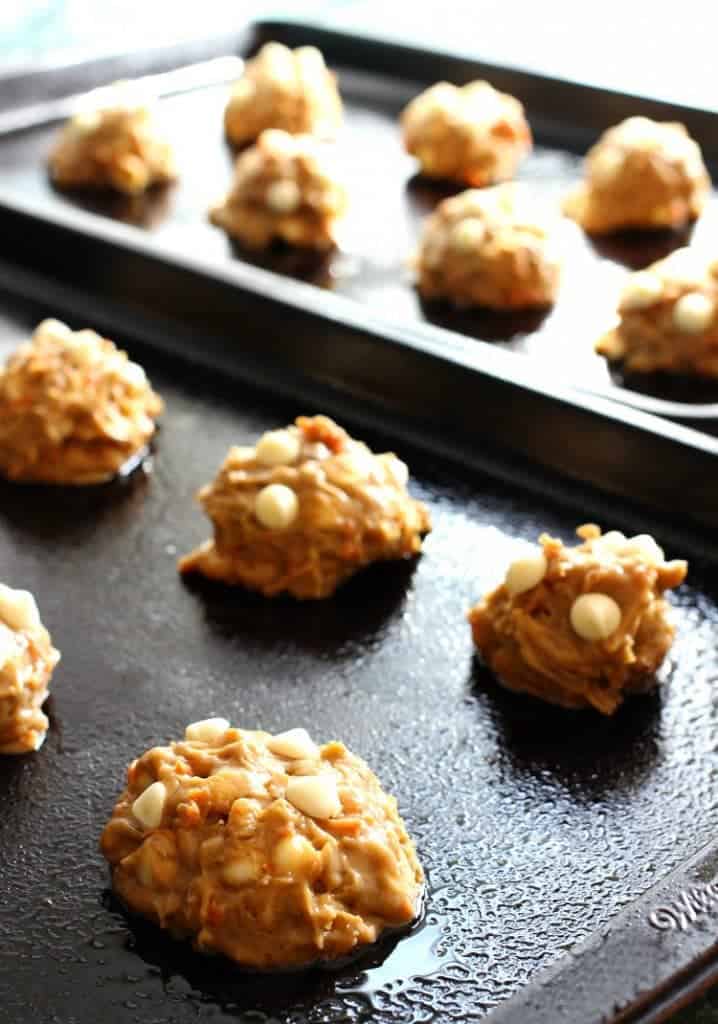 The real test was when the boys came home from school (completely starving like they've never eaten in their life) and we handed them a plate of these cookies. Older son went crazy and ate half the plate. Little guy gave us a thumb's up but only ate one.
But said he likes the carrot cake in Disney World better.
Well, isn't everything better in Disney?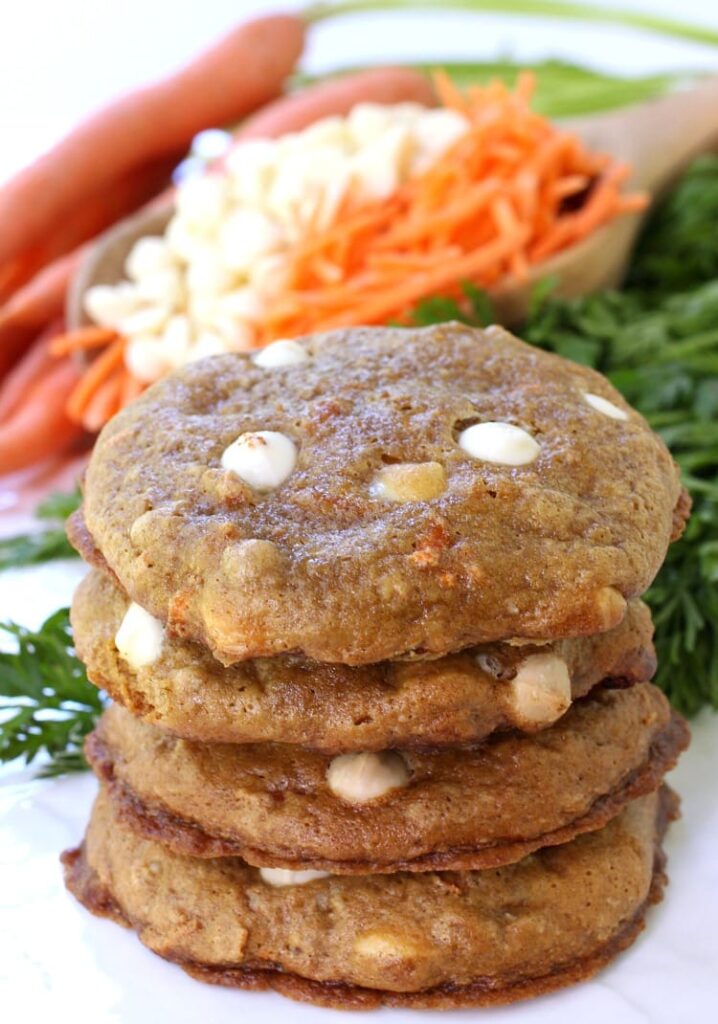 Print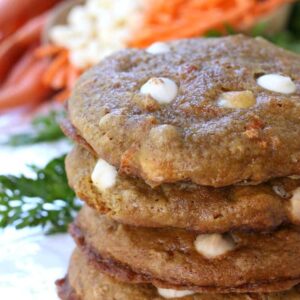 Chocolate Chip Carrot Cake Cookies
Scale
Ingredients
Dry Ingredients
2 cup

s flour

1 teaspoon

baking soda

1/2 teaspoon

salt

1/2 teaspoon

cinnamon

1/2 teaspoon

ground ginger

1 teaspoon

fresh grated nutmeg
Wet Ingredients
1

stick of butter, melted

2

eggs

1 1/2 cup

s grated carrots

1 cup

packed brown sugar

1/2 cup

white sugar

1 tablespoon

vanilla extract

1 1/2 cup

s white chocolate chips

1/2 cup

chopped walnuts
Instructions
Combine all the dry ingredients in a small bowl and whisk to combine.
In a large bowl, combine the sugars and the melted butter and beat with a mixer (hand held or stand) until well combined.
Add in the rest of the the wet ingredients and mix again until combined.
Add in half the flour mixture, beat to combine then add the rest and beat again until blended.
Cover the dough with plastic wrap and chill in the refrigerator for at least 2 hours or up to overnight.
Preheat the oven to 325 degrees.
Scoop out the dough using a 3 tablespoon scoop and place on a baking sheet sprayed with cooking spray.
These are large cookies that will spread so only put 6 cookies per tray.
Bake for 18 minutes, remove from the oven and cool on a wire rack for 10 minutes.