This Creamy Tuscan Spaghetti with Jumbo Scallops is one of our favorite scallop recipes! Skip dining out and have your seafood dinner right at home!
We love making seafood recipes at home! Check out this Quick Shrimp Stir Fry or this Asian BBQ Salmon, which is one of our kids favorites! For a seafood twist on taco night, try our Fish Taco Recipe!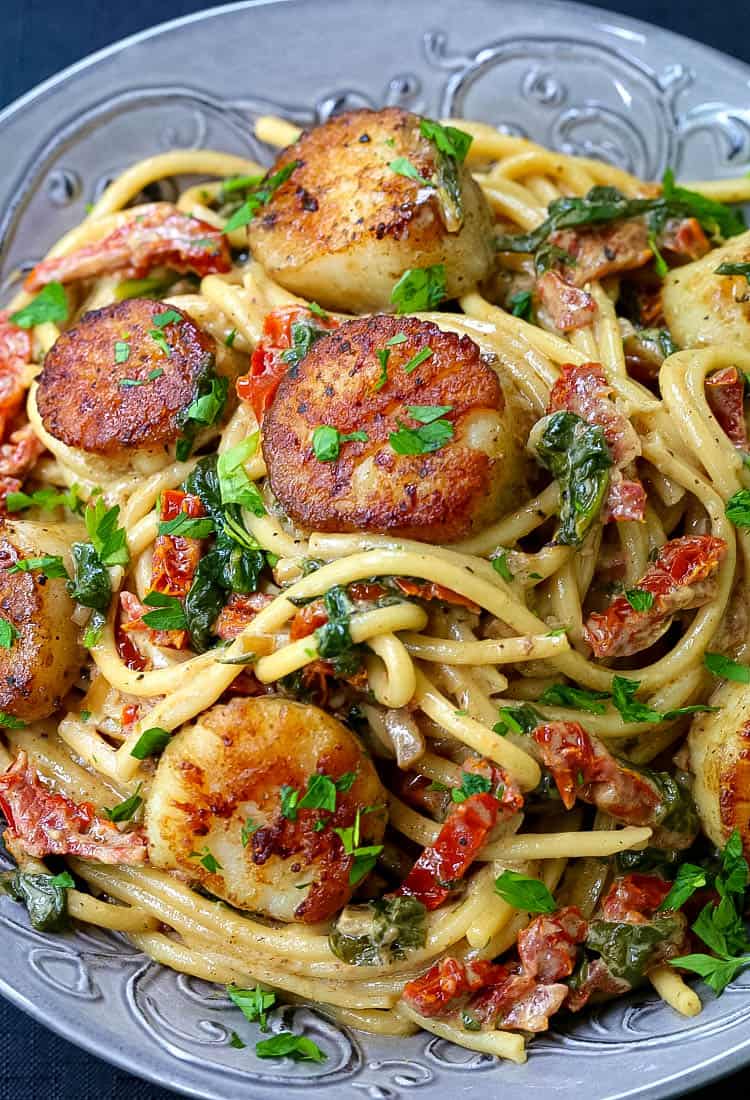 Scallop Recipes
Do you guys make scallops a lot at home? Before we made this scallop recipe, I can definitely say we did not.
I really don't know why, either. We both love scallops, they're really easy to make and a healthy dinner on top of it! What's not to love…
Scallops can be seasoned, seared and served as is with rice or pasta on the side or a salad if you are keeping things low carb. So just a few minutes in a skillet is all you need for a delicious seafood dinner.
But let's take it a few steps further and talk about some of my favorite scallop recipes, this recipe with pasta is right on top. Also seafood paella, scallops gratin, fried scallops…all delicious.
Scallops can be a little on the pricey side so watch for them when they go on sale, grab a bunch and freeze what you don't need.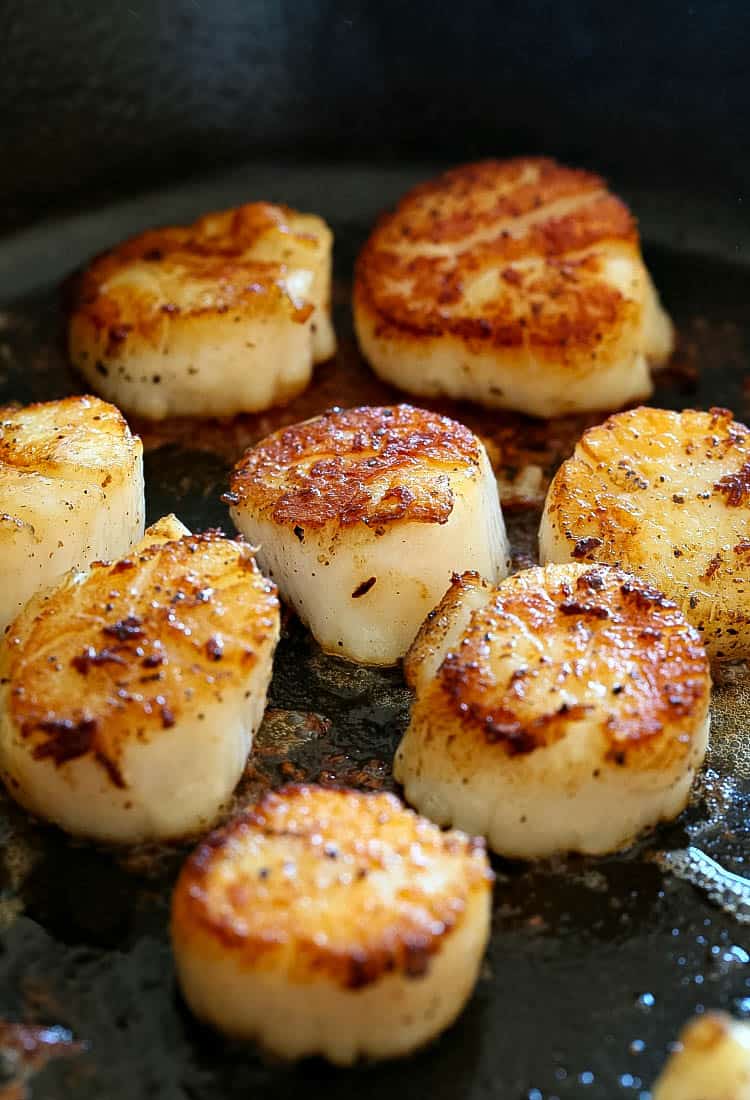 How To Sear Scallops
Searing scallops the correct way is crucial to making any scallop recipe. There's a fine line between a perfectly seared scallop and a tough, overcooked scallop so knowing when to quit is key.
What you need to do is dry the scallops off really, really well with paper towels so the surface of the scallops are completely dry.
Next get your skillet fairly hot, a cast iron skillet works great here. Drizzle oil in the pan so the scallops don't stick and place them in.
Don't move them around once you get them in the skillet. Leave them for a few minutes until a nice crust forms and they're ready to turn, just like these babies…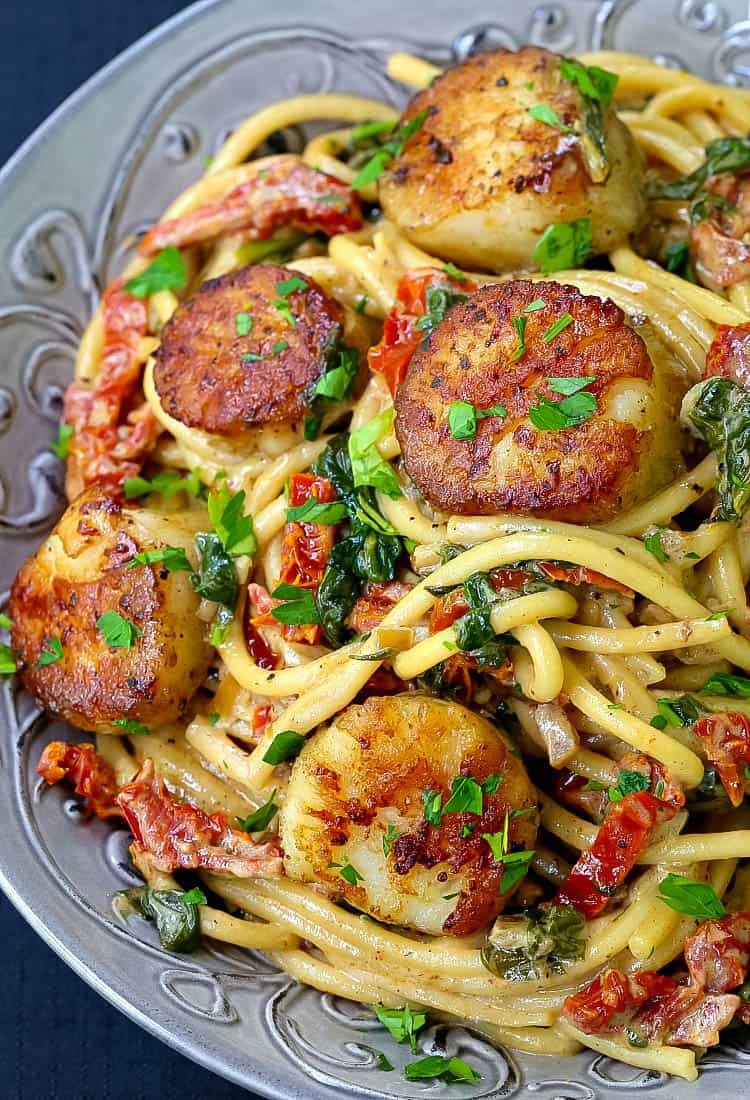 If the scallops are still sticking to the pan when you go to turn them they aren't done. Leave them another minute or two, they'll release when the crust is formed.
Definitely make sure you've gotten enough oil in your pan to keep the scallops from sticking, because they will also stick if there isn't enough oil coating the bottom of the pan.
Once you get the scallops seared, remove them from the skillet and start making the pan sauce. (While this is all going on you can be cooking your pasta so it's ready to go)
This is one of those sauces that you just want to get a hunk of bread and dive on in. There's no way you can stop from taking a few dunks but try and save it so that there's plenty to toss with your spaghetti when it's done.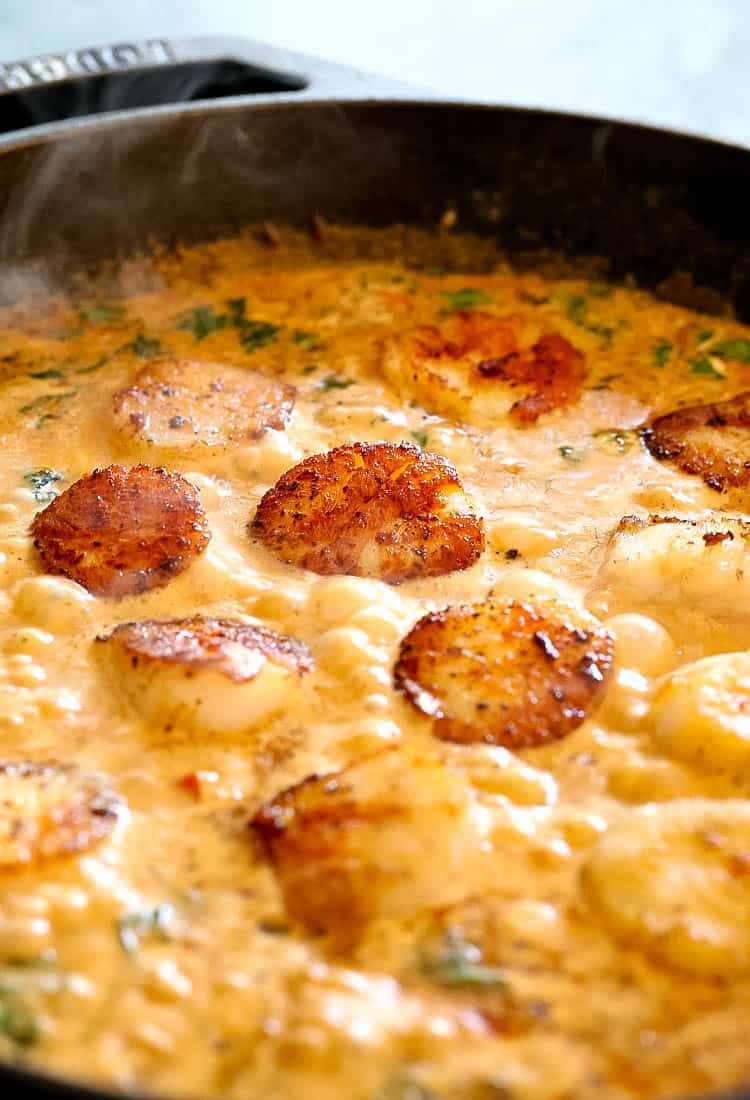 Once the sauce is finished, place the scallops back into the sauce and gently simmer for a few minutes. Doing this flavors the sauce with the scallops and also flavors the scallops with the sauce.
Win win.
Remove the scallops from the sauce – yes again – now that they've both flavored each other. You don't want the scallops breaking up while you toss the pasta with the sauce.
I like to toss the spaghetti right in the skillet that I cooked the sauce in but if it's not large enough to do that just grab a large bowl and toss until combined.
Finally, you can add those scallops back into the spaghetti and serve.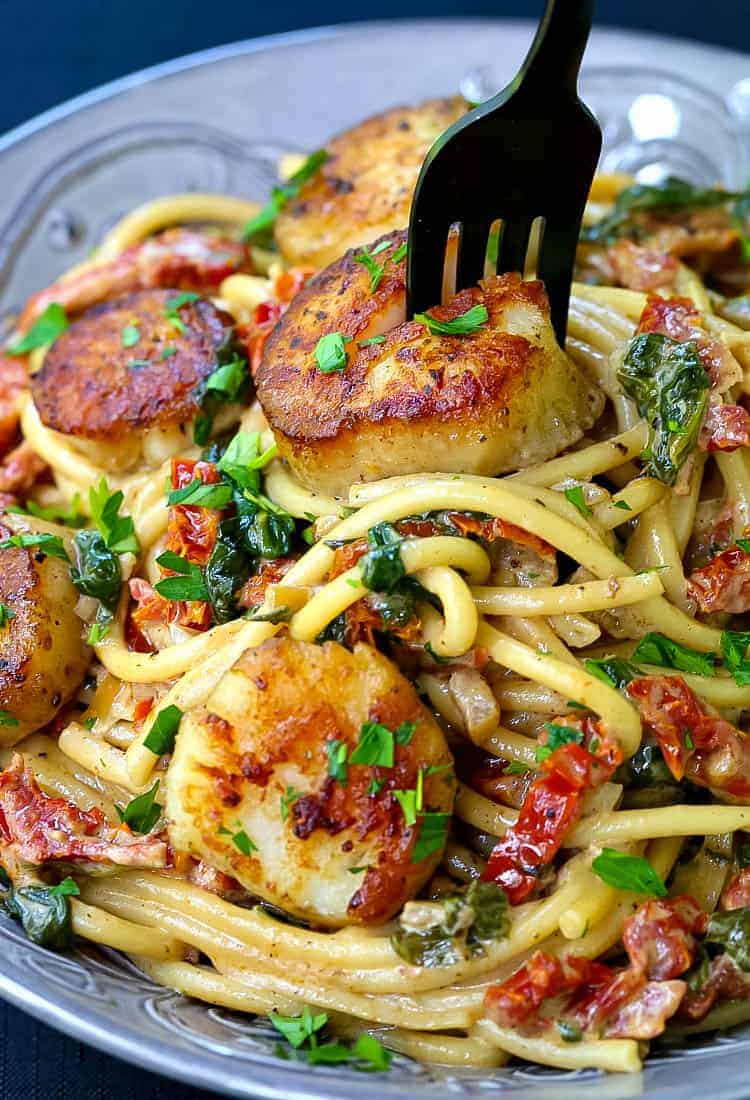 Garnish this scallop recipe with fresh chopped parsley and fresh black pepper. Don't forget to serve this spaghetti with big pieces of bread for sopping up all that delicious, creamy sauce!
Craving More Pasta Recipes?
• CHICKEN MARSALA FETTUCCINI ALFREDO
Print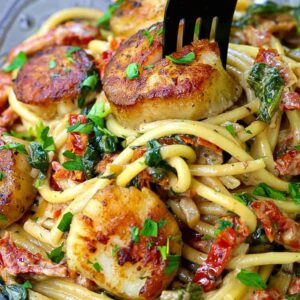 Creamy Tuscan Spaghetti with Jumbo Scallops
Author:

Prep Time:

15 minutes

Cook Time:

30 minutes

Total Time:

45 minutes

Yield:

6

servings

1

x
This scallop recipe is a knock out seafood dinner you can make right at home!
Scale
Ingredients
2 pounds jumbo scallops
Kosher salt and fresh black pepper for seasoning the scallops
4 tablespoons butter, divided
2 tablespoons olive oil
1/2 cup diced onion
3 cloves garlic, chopped
3/4 cup white wine
1 1/2 cups chicken broth
3/4 cup heavy cream
1 tablespoon cornstarch mixed with 1 tablespoon water
2 cups fresh baby spinach, roughly chopped
1 small jar sliced sun dried tomatoes, drained
1 pound spaghetti
Fresh black pepper and chopped fresh parsley for garnish
Instructions
Heat a large pot of water to boil for the spaghetti. Once boiling, cook the spaghetti according to the package directions and drain.
Add 2 tablespoons of the butter together with the olive oil in a cast iron or stainless steel skillet over medium high heat.
Season the scallops with salt and pepper generously on both sides, then add them to the skillet.
Cook the scallops on one side for 3-4 minutes until they form a brown crust. If the scallops are sticking to the pan they aren't ready to turn yet, just give them another minute or two. Then turn the scallops over and let cook for another 3-4 minutes on the other side until browned.
Remove the scallops to a plate and cover with foil.
Melt the remaining 2 tablespoons of butter in the skillet, add the onions and cook for 5 minutes until softened.
Add the garlic, stir and cook for a minute longer and pour in the white wine to deglaze the pan.
Let the wine cook down until it is reduced by half (about 2 minutes) then pour in the chicken broth and cream and bring to a simmer.
Mix the cornstarch and water together and pour into the simmering sauce. Whisk the sauce and bring it back to a simmer, cooking for 5 minutes until the sauce is reduced and thickened.
Add the spinach and the sun dried tomatoes to the sauce, stirring the spinach into the sauce to wilt. Season the sauce with more salt and pepper to taste if needed.
Place the scallops back into the sauce, turning to coat. Cover the skillet and simmer the sauce for 5 minutes, then remove the scallops from the sauce and place back on the plate, covered.
Toss the sauce with the spaghetti and add to a serving bowl. Place the scallops on top or add to individual bowls when serving.
Garnish with fresh black pepper and chopped parsley if desired.
Recipe Notes
If your skillet is on the smaller side, you can put the cooked spaghetti in a large bowl and then pour the sauce and scallops over the top and toss.
Category:

pasta

Method:

stove top
Keywords: pasta recipe, spaghetti, scallop recipe, pasta dinner, dinner recipe

[content-egg-block template=offers_grid]