Let's kick off Dirty Week with these Dirty Martini Shots! There's nothing better than a classic drink, made even more fun in shot form!
Last week it was all about chocolate and roses.
But this week, we're getting dirty.
Mardi Gras is this week and from what I hear it's a week long celebration. So I've planned a week of drinks and recipes for you that will make you feel like you're there celebrating down in New Orleans with all the crazy people.
But you won't actually have to be with the crazy people.
If you're not familiar with a dirty martini, it's a basic vodka martini with olive juice added to it. The olive juice is what makes the martini "dirty". It changes the crystal clear color of a traditional martini to a cloudy greenish brown.
It looks dirty but it tastes amazing.
You can make these shots with either gin or vodka depending on what type of martini you like. You can even make these shots "extra dirty" by adding more olive juice to the recipe.
Shake up a whole batch and keep it in the fridge or freezer and then when your guests come you can start pouring.
Of course you could take this recipe and just pour it right into a martini glass if you're not having people over and you're just wanting a good martini. After taking these pictures you can bet that's what I did. Stuck it in the fridge to wait for me until cocktail hour.
The only problem with making a lot of dirty martini's?
Jars of dry olives left in your fridge. The answer to that problem is buying bottled olive juice that's made just for making dirty martini's.
See that, there's a solution for everything.
Enjoy this first cocktail of Dirty Week – more to come tomorrow!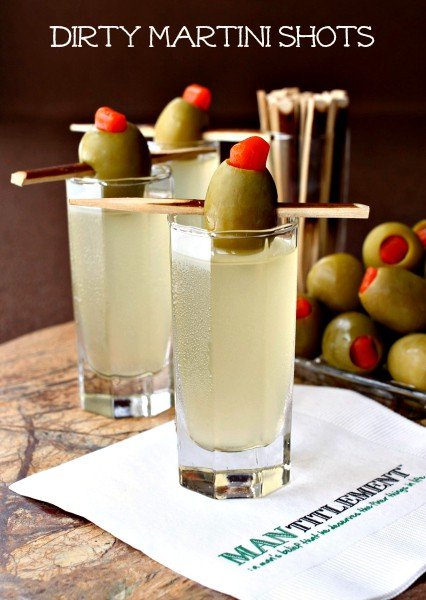 Print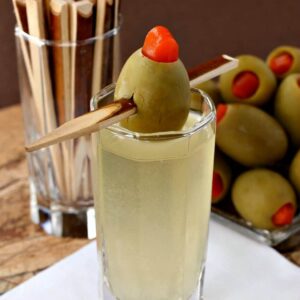 Dirty Martini Shots
Makes 3-4 shots depending on the size of your shot glasses.
Scale
Ingredients
4 oz

. vodka or gin

1 1/2 oz

. olive brine
splash of water
Olives for garnish
Instructions
Combine all the ingredients in a cocktail shaker filled with ice.
Shake well and strain into shot glasses.
Garnish with olives.