This Hard Cider Shot is one of those drinks that can substitute for a dessert. I'm all about having dessert but sometimes a dessert cocktail is all you need!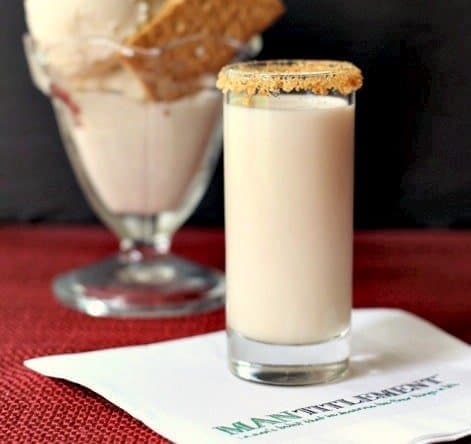 It's something that I made up after we had gone to the Hard Rock at Yankee Stadium and tasted all of their crazy good boozy milkshakes.
But I didn't have all the stuff at home to make the Hard Rock boozy milkshakes so I had to compromise.
So what was the solution? I threw some bourbon into a shaker and added a few scoops of ice cream. Shook it like crazy and I had boozy shots. It's a pretty damn good boozy shot too. This happened on a night that my wife's friends were sitting out on the deck having some dinner and wine…until I showed up.
You know how it goes, I show up with my shaker and everyone says "No thank you" and then they end up tasting the shots anyay. And these were not only tasted, they were finished. Gone.
For these shots I used Red Stag Hard Core Cider Bourbon Whiskey because it has a really crisp apple flavor and I thought it would go well with the vanilla ice cream. And it did. But it was missing something, something to make it more "dessert" like. It needed a crust.
A graham cracker crust. We always have lots of graham crackers since Amazon came out with this new feature for Prime Members called Prime Pantry. You can purchase a lot of your staples through Prime Pantry for a lot cheaper than the grocery store. They let you fill up a 4 cubic foot box of pantry items for 5 bucks shipping, so I've been ordering these Honey Maid Grahams
.
I crushed some crackers up and rimmed the shot glasses. It was pretty perfect tasting for such an easy drink. And you don't even have to break out the blender! As long as you can shake a shaker pretty hard, you're all set. It might help if you let the ice cream soften up for a few minutes before you start.
This is one of those dessert shots that prove that you don't have to have any fancy ingredients or anything too complicated to make something good.
I can tell you that since I made these Hard Cider Ice Cream Shots, a lot of the vanilla ice cream is usually always on the grocery list!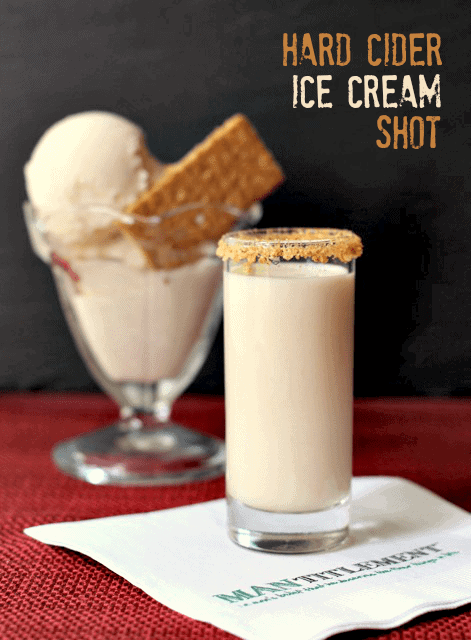 Print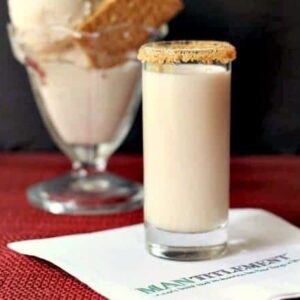 Hard Cider Ice Cream Shot
Scale
Ingredients
4

shots Red Stag Hard CIder Whiskey

2

scoops vanilla ice cream, softened
graham crackers for rimming the shot glasses
Instructions
Dip the rim of each shot glass in water, then in the graham cracker crumbs.
Add the ice cream and the whiskey to a shaker with a couple of ice cubes.
Shake very well and strain into 4 shots glasses.
aa8670fa81aa8b5d023e5d88d13535d91058a3b2a069a35241